Greatview Aseptic Packaging: Another Presence at Gulfood Manufacturing
Greatview achieved great success at Dubai's 2018 Gulfood Manufacturing, showcasing advanced Greatview® Smart Packaging and differentiation with Greatview® Discovery and Greatview® Luster.
With a decade of expansion in international markets, and solid partnerships with 7 of the top 10 global dairy companies, Greatview has established itself as an innovative and integrated pioneer of the aseptic beverage carton market.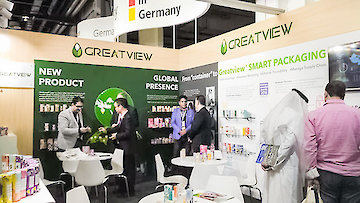 At the exhibition stand, 2 new products, Greatview® Luster and Greatview® Discovery were introduced to customers. Greatview® Luster is a novel printing technique which provides a unique glitter effect, utilizing a metallic ink beneath the polymer surface. Greatview® Discovery uses an advanced printing technology to deliver an interactive package. A scratch-and-reveal silver ink on the carton surface masks a hidden image, text or QR code that can be unique-per-carton. This new means of communication with consumers opens a new world for marketers to connect with consumers through the package.
Greatview's consistent mission is to bring significant value to dairy and juice producer by supplying a high quality, innovative and competitive packaging choice.