Solar panel facility enters operation in Greatview's German plant
Greatview has taken another important step on its route to carbon-neutral production with the self-funded installation of a solar panel system on the rooftop of its packaging material plant in Central Germany. As the beverage packaging industry transitions towards cleaner forms of energy and stakeholder demands for environmentally friendly action continue to grow, Greatview is taking a leading role through sustained efforts to further reduce the carbon footprint of its operations.
Victor Lee, International Business Director at Greatview said that "Since the beginning of 2020, we have already purchased 100% of the electrical power for the factory from responsible sources that are certified by the German Federal Environment Agency. Through this, we have already laid down a marker of our intent to actively reduce the environmental impact of our operations and the installation of this solar facility reinforces our commitment to supplying customers with sustainable packaging solutions".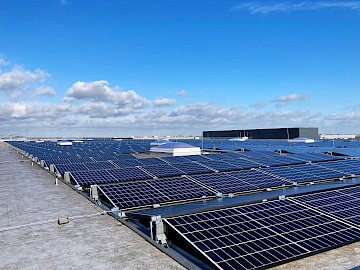 As a leading producer of aseptic beverage packaging, Greatview is acutely aware of its responsibility to take positive action supporting the wider industry in reducing its operational impact on our planet, thereby assuring customers of a greener supply chain. This is why Greatview has actively invested just over €2 million into this system.
Dirk Sattur, Technical Director at MITNETZ STROM described the new solar facility as an "important step to further strengthen the supply of Central Germany with sustainable electricity." The grid operator, who has partnered with Greatview in this solar panel project, supports Central Germany in the expansion of renewable energies with continuous expansion of its electricity grid and invests in smart solutions. In this way, MITNETZ STROM ensures a secure and reliable power supply in the region. Sattur continued, "Sustainability also plays a major role for us and we welcome Greatview's approach to reducing its CO2 emissions and driving forward the energy transition."
The commissioned solar panels, provided by Qcells, offer Greatview the opportunity to further minimise the CO2 emissions caused by production. Mario Schulte, Sales Manager East at Qcells said: "Solar power from one's own roof is very attractive for companies for ecological and economic reasons. In view of rising electricity prices for grid electricity, solar power is by far the cheapest form of electricity purchase and offers Greatview planning security for the coming years."
After the successful installation of the system's substructure over the summer before fitting the solar panels and inverter in November 2021, the system began to generate power in April 2022. These solar panels will help to reduce the German production plant's CO2 emissions by approximately 1,000 metric tonnes per year, equivalent to approximately 700 households. In addition, the panels will also aid in preventing the overheating of the plant's roof, reducing the usage of the cooling system in the production hall, creating further savings in energy and resource consumption.
The installation of the photovoltaic system in our Kabelsketal production plant is another significant milestone that displays Greatview's dedication to greener production. We always strive to have a positive impact on our customers, on society and on the environment and with our increasing focus on sourcing the energy used in our production responsibly and renewably, we are living up to this commitment.