Halle (Saale) Factory, Germany
This state-of-the-art converting factory is located in Halle (Saale), Germany, at the geographic heart of Europe, close to major road, rail and air transport hubs. The factory serves as the group's primary exporting facility, supplying packaging material to customers in Europe, the Americas, Russia and CIS, Middle East, Africa, Asia and Oceania. The factory has been in operation since 2013 with a major expansion in 2017, representing an investment of over 88 million euros.
Inner Mongolia Factory, China
Greatview's Inner Mongolia aseptic packaging production facility is located in Horinger, in China's northern dairy belt, close to some of the largest UHT dairy plants in the world. The factory was completed in 2010 and currently has two two world-class production lines. Energy saving solutions and recycled materials are used throughout the plant. Carbon foot print accounting was included in the design and construction phase of the site.
Shandong Factory, China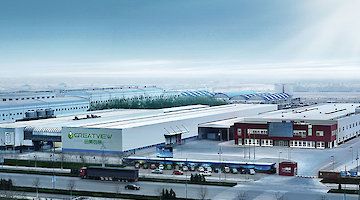 Greatview's first converting factory and the origin of Greatview Packaging, is located South-East of Beijing in Gaotang, Shandong Province, China. It is Greatview's largest converting facility with a total of three production lines, one of which was completed in 2013 and was officially put into production in 2014. The factory supplies the Group's full range of aseptic package formats to customers in China, rest of Asia and Oceania.