A true alternative: A conversation between Jeff Bi and CEO Magazine
CEO Magazine, a global business publication, sat down with Jeff Bi, the CEO and Executive Director of Greatview Aseptic Packaging, to discuss how Greatview is changing the aseptic carton industry for the better. Greatview has added immense value to the global industry by leading the dismantling of the previous supply monopoly with high-quality products and services, and it continues to add value with leading-edge digital innovations.
For the first customers, supply from Greatview "was like a leap of faith." he says. That faith has since led the company to grow into the world's 3rd largest player in the aseptic liquid food carton market worldwide.
Jeff also talked about his vision to connect consumers and brand owners in real-time through smartphones and unique QR codes printed on its packages. Greatview® Smart Packaging creates a two-way communication platform which can offer granular traceability, instant-wins, entertainment, and specific product information. Today, more than 50 customers have implemented Greatview® Smart Packaging technology on their products.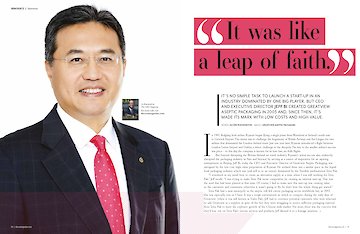 Read the full article originally featured in CEO Magazine, October 2019 issue https://www.theceomagazine.com/executive-interviews/manufacturing/jeff-bi/