Greatview Aseptic establishes as a trusted supplier of blank-fed aseptic cartons
Greatview Aseptic Packaging, already well established as the second-largest supplier of roll-fed packaging material for Tetra Pak aseptic filling machines, is now established as a blank-fed producer, supplying sleeves compatible with SIG Combibloc filling machines.
Greatview Aseptic Blank Fed Converting Facility
Greatview's new facility in Horinger, Inner Mongolia produces blank-fed carton sleeves suitable for SIG Combibloc filling lines. Equipped with advanced production equipment from Germany and Switzerland, the facility is dedicated to addressing the large market which up to now has been limited to a single source of supply from the original filling line machine manufacturer.
The blank-fed system is differentiated by a number of capabilities compared to the roll-fed system for aseptic cartons, including rapid and efficient size changes, variable underfilling, and the potential to fill products with large particulates.
Piloting production with world-leading international companies
Greatview Aseptic is piloting its production of blank-fed cartons with several world-leading dairy and beverage producers operating in China, filling both high and low acid products.
Yili Group, also based in Inner Mongolia, is Greatview's lead partner in this development, and has worked since 2019 to develop and use Greatview Aseptic Blank Fed packaging material on its SIG Combibloc filling lines.
Yili is Asia's largest dairy producer and one of the world's largest producers of long-life dairy products packed in aseptic cartons. The group markets its products using a wide range of its own brands and is already using Greatview to supply packaging for its Pure Milk and Youngfun flavoured milk in 250mL packages.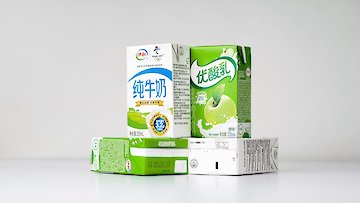 Yili Group Pure Milk and Youngfun brands packed in Greatview Aseptic Blank Fed run on SIG Combibloc filling lines
Capacity, portfolio and geographic expansion
In addition to the package used by Yili group, Greatview is currently developing and validating packaging in additional sizes and formats. The existing portfolio covers three sizes, 125, 200, and 250mL, in two cross-sections, mini and small.
The Greatview converting facility is capable of being adapted to other blank-fed sizes including 1000, 1500, and 2000mL. Further manufacturing capacity both in Inner Mongolia and other Greatview facilities will be added as demand dictates.
Greatview Aseptic Blank Fed is compatible with Greatview packaging décor effects such as Greatview® Luster, Greatview® Brilliance, and Greatview® Shine as well as Greatview® Smart Packaging which delivers variable printing and unique-per-pack QR codes.
Jeff Bi, the CEO and Executive Director of Greatview, said: "Greatview has led the industry in breaking the monopoly of supply in packaging material for roll-fed aseptic carton lines. By introducing competition we have driven innovation, lowered price, enhanced quality, and improved choice. Now by extending our portfolio with blank-fed sleeves, Greatview is further living up to its' philosophy of "Choice Creates Value" for operators of SIG Combibloc lines. We are committed to providing customers with a credible, high quality, and responsible alternative for both roll-fed and blank-fed aseptic cartons systems, which is driving competitiveness into the aseptic liquid carton industry."